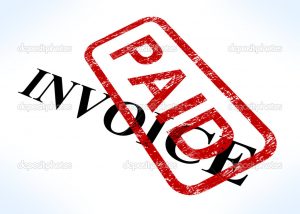 Over the past few weeks I have been trying to pay a supplier's invoice on behalf of one of our clients. The problems started as their invoice does not include payment details for a bank transfer. So I called them to request these details, the lady who answered the phone said she didn't know but would get someone to call me back within the hour. A week later, having heard nothing, I try emailing them using the address on their invoice which bounces back! So I call them again and get told someone will call me back within the hour. Guess what? 2 weeks later I am still waiting.
Invoicing is actually quite a simple straight forward process. Yet time and again businesses thwart themselves by making easily avoided errors. A timely and accurate invoice significantly improves the likelihood of it being paid without any issues.
So what constitutes a good invoice template? Well it needs to have all the information needed by the recipient to allow it to be paid as well as containing all the required legal details.
Company name and logo (or equivalent).
Company registered address (or equivalent).
Contact telephone number (for any queries).
Invoice to details including their company name and address.
Invoice number – this must be unique and can be as simple as a number but do try to format so that it remains consistent (0001, 0002, 0003).
Invoice date – this should be the date issued / printed, it cannot be retrospective.
Payment details including options (e.g. Cheque, BACS, credit card, Paypal) and details for each. For cheques, who to make it payable and where these should be posted. For BACS, account number and sort code (if international payments then additional information will be needed like BIC and IBAN numbers) – it is also a good idea to ask for your invoice number to be included on the transaction in the reference field. And so on. As a minimum accepting cheques and BACS is sensible.
Details of when payment is due by, this should match any terms & conditions you have agreed. An actual date rather than something like 'payment due within 30 days' is better at ensuring you get paid in a timely manner.
Description of the work done, amount due, dates work was done, reference any quote you provided, always include their purchase order number if provided (read their purchase order as this will often contain specific requirements for their acceptance on invoices).
Company registration number, VAT registration number (if relevant).
Don't forget to say thank you, it might feel cheesy but manners cost nothing!
When dispatching an invoice, there is little reason to put these in the post nowadays. Instead email the invoice with a short covering note, not only is it immediate but you also know it has been delivered.
So what if your invoice doesn't get paid in a timely manner? If it is the first offence for a particular customer, then send a reminder email or call them. If a customer is a repeat late payer, contact them shortly before it is due to check they have no queries and confirm that it will be paid by the due date (large organisations often have weekly or less frequently payment runs and if your invoice doesn't make the cutoff you could be waiting unnecessarily).
After friendly chasing, and still no progress then follow the simple legal process as defined in The Late Payment of Commercial Debts Regulations 2013. This is normally very effective as very few people are comfortable having County Court Proceedings started against them.
We handle this type of work on behalf of our clients, so if this is something you think we can help you with, please give us a call.